How to Use the Logo Library
You can access and download medical center logos in the CUIMC logo library.
The logo library is hosted on CUIMC's Digital Asset Management system, ResourceSpace. 
The logo library is available to Columbia University faculty, students and staff, and requires signing in with a UNI. ResourceSpace creates an account for you the first time you sign in.
How to Use the Logo Library
Sign into ResourceSpace with your Columbia UNI using your browser: https://cuimc.resourcespace.com
Read and accept the "Terms and conditions" (first-time users only)
On the main page, find the search tool on the right of the screen
In the search tool, enter the word "logo" with the name of the department or unit

For example, "logo department of surgery" or "logo division of cardiology" or "logo human resources"

Hit "return" or click "search"
If you would like to sort by type of logo, check off a logo category (for example, "Logo - EPS") before searching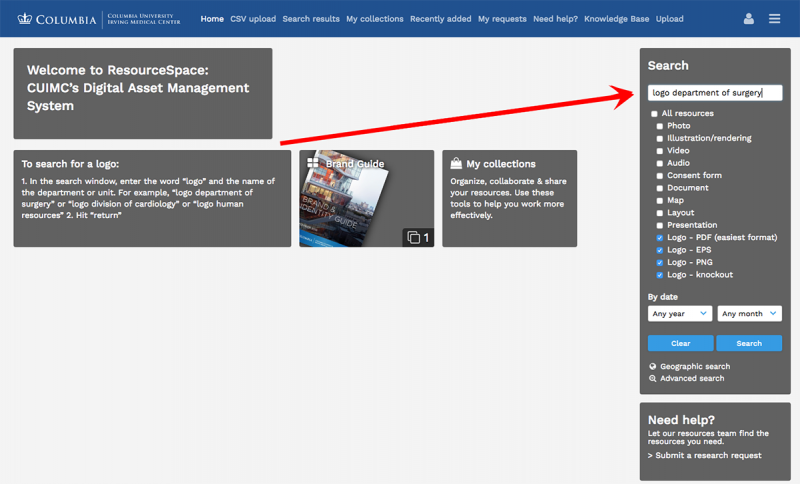 Medical Center Logo
CUIMC College & School Logos
Department Logos
Administrative Unit Logos
Brand Guide
Powerpoint Templates
Digital Letterhead
Logo orientations: Horizontal and vertical
Color schemes: Blue (PMS 7686) and white knockout
File formats: EPS, PDF (easiest format), and PNG
Color formats: RGB (for screens and web) and CMYK (for print only)
Quick Links
After signing into ResourceSpace once, you can use the links below to find popular logos or logo collections: